Carpet Factory
Raidestou and Vaindiriou Str.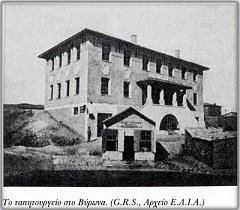 Carpet weaving was one of the main crafts and industries of the inhabitants of Asia Minor, initially for the Muslim populations as well as for some Christians. After 1860, the increased demand for carpets in the markets of Europe and the USA, as well as the Tanzimat (a series of political and economic reforms) in the Ottoman Empire allowed Christians to turn to this lucrative activity. They created commercial firms which exported the carpets woven by women at home or in workshops, in Kula, Milas, Bergama, Isparta. The refugees from Asia Minor brought to Greece their knowledge on carpet weaving after 1922. The development of carpet weaving in Greece was a way for acquiring a profession, particularly for women, and was characterized as a "miracle" as it boosted the Greek export trade.
A two-storeyed carpet factory was built in Vyronas by refugees from Isparta in Pisidia. The initial founder was the renowned carpet weaver from Isparta, Kahramanoglou. Then, the factory passed on to the Moraloglou family. Many young refugee girls were employed there. In the post-war period, due to the decline of the demand from foreign markets, the factory functioned mainly for carpet repair and cleaning. Later on, the municipality recuperated the first floor, which was known for years as "Steki" (i.e. a place for young people to hang out).


Additional information
Sparta (Isparta in Turkish) in Pisidia was one of the main areas where carpet weaving flourished due to the commercial skills of the inhabitants. The first looms were set up in the 1880s by Katina Styloglou, her brother Iordanis Styloglou and her husband Prodromos Gregoriadis. Their activity was supported for a short while by Oriental Carpet Manufacturers, whereas the exports took place mainly through Smyrna, where the carpet weavers from Isparta, such as the Styloglou, the Kahramanoglou, the Kehagioglou, the Papazoglou, Soutzoglou, Pesmatzoglou and others had founded commercial firms.
The square adjacent to the Carpet factory, surrounded by the streets Kyprou, Heimarras and Raedestou, has been renamed as Ethnikis Antistaseos Square, but it was formerly called Tapitourgeiou square. Nowadays it hosts open-air event due to the amphitheatric banks which occupy part of it, whereas its highest point is occupied by the monument of Ethniki Antistasi (National Resistance) commemorating the resistance of the inhabitants of Vyronas against the German Occupation and particularly the sacrifice of fighters during the Blockade of Vyronas in August 1944.